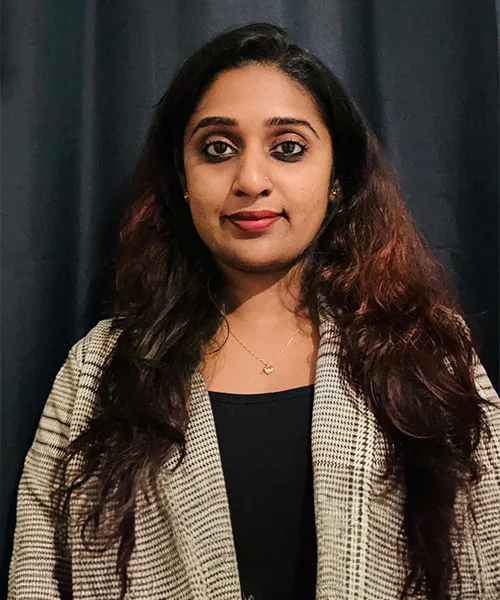 Dr. Lekshmi Sheeja Kumar
Dr. Lekshmi Sheeja Kumar a seasoned Ayurveda professional joins the team with more than 10 + years of experience and brings in-depth knowledge of the practice of Ayurveda in clinical settings. She is a certified practitioner consulting a wide range of patients and prescribing medication in strict compliance with good clinical practice and following SOP applicable regulations. She graduated from Amrita School of Ayurveda in Kerala ( 2007-2013). She is highly passionate and dedicated to her profession.
Expertise in Ayurveda diet counseling – for children and adults, carries out expert supervision of Panchakarma and Keraleeya Kriyakrama. Her specialism includes lifestyle disorders such as insomnia, anxiety, sleep disorders, gynecological disorders such as leucorrhoea, metrorrhagia, PCOD and associated infertility issues, scalp and hair care – Alopecia, Hair fall, Seborrheic dermatitis, folliculitis, ankylosing spondylitis, low back ache, sciatica, varicose vein and ulcers, immunity challenges, Bell's palsy, Sports injury, pre and postnatal care.
She is a fully insured member of the Ayurvedic Professionals Association (APA) in the UK and speaks fluent English, Malayalam, and Hindi.